Improve Your Home's Comfort With Expert Attic Insulation in Greater St. Louis
We Install Attic Insulation to Improve the Energy Efficiency of Your Home in greater St. Charles, Ballwin & Chesterfield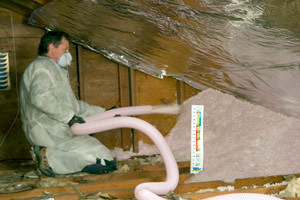 Blowing in a blanket. Blow-in (or blown) fiberglass insulation is a good choice for attic insulation. A special machine shreds the fiberglass and then blows it through an application hose.
Attics are generally the first place to properly air seal and insulate to make your St. Louis home more comfortable and lower your energy bills. This is because heat travels up and during the winter the heat escapes through the attic.
In the summer the attic can become very hot with the sun beating on the roof and if there is not proper insulation the heat enters the living space which is cooler (heat travels to cooler spaces). More energy is lost through your attic than through any other area of the house!
The most effective way to insulate the attic is to first seal any gaps in the space using rigid foam insulation and spray foam. After air traveling through the space is prevented we can add blown-in insulation to your attic.
We can use either fiberglass or cellulose which is chewed up in a machine travels up through a tube and is blown-in the attic. You are essentially placing a blanket of insulation over the top of your home. If you don't have any insulation in the attic this is a must.
If you have poorly performing fiberglass batts we can blow in insulation on top of it to upgrade the R-Value of the insulation in your attic. The target R-Value for the attic is R-49-60 depending on where you live. The cheap insulation batts you probably have in your attic are giving at most R-19!. To get to R-60 we will usually blow in a 16 inch blanket of insulation.
Dr. Energy Saver St. Louis is the trusted Home Insulation Contractor serving Missouri and Illinois. We provide our attic insulation services to residents throughout: St. Louis, Florissant, Ballwin, Belleville, Chesterfield, East St. Louis, Fenton, Granite City, Arnold, Edwardsville, Alton, O Fallon, Collinsville, Eureka, Mount Vernon, Centralia, Imperial, Troy, Maryland Heights and all surrounding areas in Greater St. Louis, Missouri and Illinois.
Installing Attic Insulation Can Cut Energy Costs By 20% or More.
If your attic is costing you money, Dr. Energy Saver can help.
Importance of Air Sealing and Insulating Attics
Larry Janesky explains that insulation prevents heat transfer, keeping hot air from moving in and out of the house. In the summer this prevents hot air from getting into your cool home. In the winter it keeps heat from seeping outside your home. Remember it prevents heat transfer.
Combine Your Air Sealing with Attic Insulation for an Energy Efficient Home.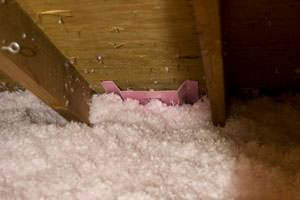 Baffles keep ventilation channels open. Plastic spacers are installed between rafters in the attic to maintain a vent space beneath the roof surface after new insulation is installed.
As mentioned Air-sealing is an essential step in properly insulating your attic. It prevents air from flowing in and out of your home. At Dr. Energy Saver St. Louis we use a variety of materials and techniques to peroply air seal your home and prevent energy-waste. We keep your home comfortable and your energy bills low.
Installing baffles ensures proper attic ventilation. Baffles are sized to fit between the attic rafters and provide ventilation into the attic space via the soffit vents (located along the eaves). Baffles helps prevent ice dams on the exterior and excess moisture on the interior of the attic.
Old insulation can be reused most of the time. If your old insulation is not wet, moldy or compressed we can simply put it back after air sealing and add fresh blown-in insulation on top of it.
Call 1-877-622-2308 or contact us online to schedule a free attic insulation estimate in Ballwin, Florissant, St. Louis, East St. Louis, Chesterfield, Belleville, Granite City, Arnold, Edwardsville, Fenton, Alton, O Fallon, Collinsville, Eureka, Mount Vernon, Centralia, Imperial, Troy, Maryland Heights and the surrounding Missouri and Illinois area.
Start Saving Energy and Money With An Attic Insulation Upgrade
Dr. Energy Saver St. Louis offers information about attic insulation and helps homeowners within the Greater St. Louis area and nearby! Call us today to speak with a professional and begin your home insulation upgrade.
Looking for a price? Get a no cost, no obligation free estimate.