Attic Insulation Experts Serving Florissant, St. Louis, Ballwin & Nearby
Our insulation experts can solve your home's energy problems with attic insulation and air sealing
Learn more about the importance of air sealing for effective attic insulation solutions.
If you have issues with an uncomfortable, inefficient home, the attic is the first place to start solving the problem. An attic with insufficient insulation has a huge impact on the home's efficiency and comfort, as it allows the heat you pay for to escape during the winter and transfers the heat from the sun to the living space during the summer.
The attic insulation experts at Dr. Energy Saver St. Louis understand the best ways to improve your home's energy performance and keep your home comfortable all year long. We offer complete air sealing and attic insulation services, including a variety of attic insulation materials. Call us today at 1-844-385-7503 or click below to get started with your free estimate in St. Louis, Florissant, Ballwin and the nearby areas in Missouri and Illinois.
Understanding the importance of attic insulation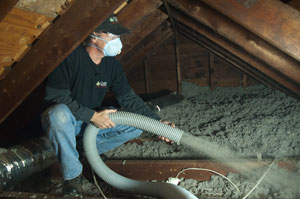 Blown-in cellulose insulation is one of the most effective ways to improve your attic insulation performance.
Most homes already have fiberglass batt insulation, but this material severely underperforms. The Department of Energy recommends an R-Value between R-49-60 for the attic, while insulation batts generally don't provide more than an R-19 rating. The attic also allows a significant amount of air transfer between the living space and the outdoors, which will create uncomfortably hot rooms in the summer and uncomfortably cold rooms in the winter while causing higher utility. bills.
These reasons are why it's essential to address the attic with a complete insulation system. The most effective way to insulate the attic is to first air seal all gaps and cracks where air can leak through. Once you have a fully sealed space, insulation can be installed throughout the attic.
Blown-in cellulose or blown-in fiberglass insulation can be installed over existing fiberglass batt insulation. A thick layer of insulation is installed to raise your R-value to recommended levels. Spray foam insulation is another option, as it provides air sealing and insulation in one step for an effective solution to home comfort and energy problems.
Types of attic insulation
Cellulose Insulation: Cellulose insulation is an environmentally friendly product that is made from recycled materials and treated for fire resistance. Cellulose insulation is blown into the attic using a large tube, and it can be installed over the top of existing insulation. Using cellulose insulation allows us to create a thick insulation layer that reaches the R-value your home needs.
Blown-in Fiberglass Insulation: Blown fiberglass insulation is made from shredded fiberglass batts, which are the traditional insulation method in that attic. Blown-in fiberglass is far more effective than fiberglass batts, however, because it provides a continuous layer of insulation without the thermal breaks batts allow for. Fiberglass is applied to the attic in the same method that cellulose is.
Spray Foam Insulation: Spray foam insulation is unique in that it provides air sealing and insulation in one step. Spray foam is applied using a chemical compound that mixes during the application and expands on the surface it is applied to, allowing it to completely seal an area. Spray foam insulation can be more expensive, but it is also a highly effective, long-lasting solution. Spray foam also offers the added benefit of not taking up floor space.
Start saving energy and money with an attic insulation upgrade
If you're tired of dealing with uncomfortable rooms and high heating and cooling costs in your home, the local insulation experts at Dr. Energy Saver St. Louis are here to help. We can evaluate your home and recommend the right attic insulation services and materials for your needs, and provide you with a quality installation. Call us today at 1-844-385-7503 or contact us online to get started with a free estimate in St. Louis, Florissant, Ballwin, Belleville, Chesterfield, East St. Louis, Fenton, Granite City, Arnold, Edwardsville and the surrounding areas in MO & IL.
Looking for a price? Get a no cost, no obligation free estimate.