Crawl Space Repair and Insulation Services in Greater St. Louis for Guaranteed Savings
Improve your home's comfort in greater Ballwin, St. Peters and Chesterfield
Insulating your Crawl Space is an important part of making your home comfortable and energy-efficient. Inadequate or incorrect crawl space insulation results in the opposite. Not only does crawl space insulation provide you a comfortable home but it prevents mold growth and rot stemming from moisture damage.
If your crawl space is a mess and is not properly insulated we can fix the problem. Dr. Energy Saver St. Louis is your trusted crap space repair contractor in Missouri and Illinois.
Signs of crawl space insulation problems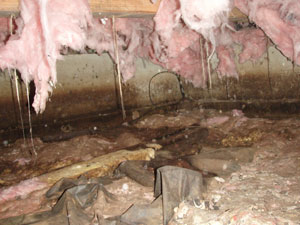 Save now but pay later. Fiberglass batt insulation is inexpensive. But it doesn't perform well or last long when installed between crawl space joists.
A cold floor above the crawl space
You have to turn up the heat in rooms above the crawl space
Mice and other rodents are living in the fiberglass insulation between the joists of the crawl space
The fiberglass insulation has fallen or is sagging from the joists in the crawl space
There are smells of mold or you can actually see mold in the crawl space
The crawl space is constantly damp
Crawl space insulation done wrong: fiberglass batts installed between joists
The antiquated way to insulate crawl spaces was to shove fiberglass batt insulation between the joists above the crawl space. You would then vent the crawl space with outside air allowing to circulate below your floor.
This was a terrible idea because it lead directly to the problems listed above. The cheap fiberglass batts absorb moisture, becoming a soggy worthless mess with no R-value. Even if it does not get wet gravity will lead to it sagging and the moment there is a gap between the floor and the insulation you effectively do not have insulation.
Add on top of this cold air being purposefully circulated in the crawl space and you have cold air blowing into your home and heat escaping out the crawl space. Dr. Energy Saver St. Louis understands the problems associated with traditional crawl space insulation and we are here to fix them.
Benefits of Rigid Foam Crawl Space Insulation
Stable and reliable. Rigid foam insulation does not compress, fall out of place or lose its R-value like fiberglass insulation. Rigid foam really is a "one-and-done" improvement.
Effective air sealing. Fiberglass insulation does not stop air movement but rigid foam panels are taped sealing any air flow.
Moisture-proof. Rigid foam won't absorb moisture or be damaged by it.
Unfriendly to mold. Rigid foam contains no organic material which means that mold can't grow on it.
Better ductwork performance. Ducts located in the crawl space benefit from rigid foam installed against crawl space walls.
Crawl Space Repair: Before and After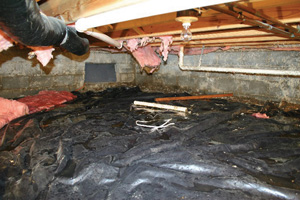 Moisture, mold and falling, failing insulation are problems in this crawl space, which hasn't been properly sealed.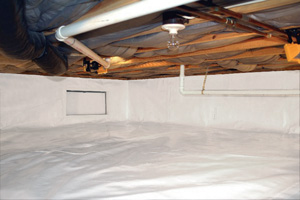 The encapsulation treatment totally separates and protects the crawl space interior from outdoor conditions, keeping the space clean and dry.
Certified Crawl Space Contractors in Missouri and Illinois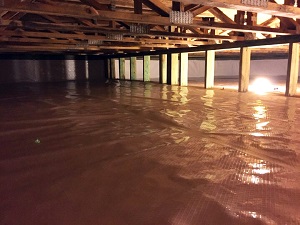 All-size solutions. The CleanSpace® Crawl Space Encapsulation System provides moisture control in the crawl space.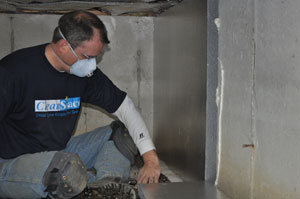 Looking good & lasting long. Rigid foam insulation is not damaged by moisture and does not degrade in appearance or R-value. It is installed against he interior face of the foundation walls.
Rigid foam insulation is far superior than fiberglass for sealing and insulating the basement. Rigid foam is manufactured in panels of different thickness which allows us to cut the panels to fit perfectly the interior crawl space foundation walls. The panels are secured using adhesive or mechanical fasteners.
Properly insulating the crawl space with rigid foam is part of the crawl space encapsulation process as recommended by building scientists. Crawl space encapsulation seals the crawl space seals your crawl space from the exterior of your home giving you control of the space making it usable.
Fiberglass is dirt cheap because it is a useless, antiquated insulation. Obviously rigid foam insulation which actually does its job is more expensive but it has a much higher value. Your home will be effectively insulated making it more comfortable and lowering your energy costs. You will not have to redo the project cleaning up the mess in 15 years as the insulation will look just as good as the day it was installed.
Start Saving Energy and Money With A Crawl Space and Basement Insulation Upgrade.
Call 1-877-622-2308 or contact us online to schedule a Free Estimate for basement or crawl space insulation in Ballwin, Florissant, St. Louis, and nearby including Chesterfield, Belleville, Fenton, East St. Louis, Arnold, Edwardsville, Granite City, and more.
Looking for a price? Get a no cost, no obligation free estimate.