Spray Foam Insulation Services in Greater St. Louis
We're the Contractor to Call for Spray Foam Insulation in Ballwin, St. Charles and Florissant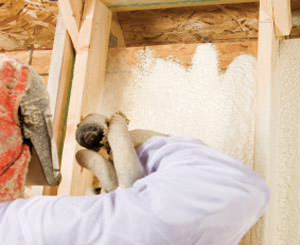 What makes us the best!
30 years of insulation installation expertise
Long-standing A+ rating by the BBB
Variety of easy-to-use financing options
FREE written estimates for ALL services!
Home Insulation has come a long way over the past decades. It used to be that sawdust was poured inside walls to act as a simplistic insulation. After sawdust there was the rise of vermiculite, porous lightweight pebbles that looked just like kitty litter.
Even today contractors use antiquated insulation (we are talking about those big pink fiberglass batts in the attic). Even with all the junk insulation you find in the market there are a number of insulation types that excel in heat loss prevention. Spray foam insulation is one of the best, more specifically closed-cell polyurethane foam.
We use high quality spray foam insulation to air seal and insulate your home at the same time. You can expect your home to be more comfortable and your energy bills to be lower. We are the trusted spray foam insulation contractor in St. Louis, Florissant, Ballwin, and nearby cities and towns such as Belleville, Chesterfield, East St. Louis, Fenton, Granite City, Arnold, Edwardsville, Alton, O Fallon, Collinsville, Eureka, Mount Vernon, Centralia, Imperial, Troy, Maryland Heights, and more. There is a reason why your neighbors chose us as their spray foam insulation company.
Two Basic Types of Spray Foam Insulation:
1-part foam: You have most likely seen and maybe used this type of spray foam. It comes in small pressurized cans sold at hardware stores under brand names like GREAT STUFF™. Single-component foam is very sticky and expands at different rate depending on the type you choose. This foam is used to seal gaps and insulate your St. Louis home and is also known as "insulating foam sealant."
2-part foam: If you are planning on insulating the entire basement or attic with spray foam then 2-part polyurethane foam is the way to go. This type of foam comes in two separate pressurized metal containers.The foam is collected from the separate containers and pumped up separate tubes. It is not until the nozzle that the two components (resin and catalyst) are mixed together. The resulting chemical reaction causes the materials to expand as it is sprayed.
Spray Foam Insulation Advantages:
When it comes to actual insulation quality Poly spray foam has a higher R-value per (6.2+) inch than any other commonly used insulation.
Air barrier: One great aspect of spray foam is that it air-seals and insulates a the same time. It is used for air sealing because it expands to fill any empty space in gaps throughout your home. It is super-adhesive keeping it in place. Before blown-in insulation is added to an attic the area is first sealed with spray foam. However, rather than use other types of insulation the whole of the attic can be insulated with spray foam.
Waterproof: Many types of insulation including fiberglass and cellulose lose their insulating properties if they get wet. Fortunately, spray foam is completely waterproof as the closed cell structure of the polyurethane does not allow water to travel between neighboring air bubbles in the foam.
Foolproof: If there is a missing patch within a blanket of insulation constituting only 5% of the surface area can reduce the insulation in the insulation by 50%! This means that insulation is only as good as its installation. This is why fiberglass batts are infamously poor insulation. They require being cut to be installed and no cut is perfect so there will always be gaps with this type of insulation. Spray foam expands and sticks to all the areas of the space removing any gaps. The spray foam will also not shift and move after installation like fiberglass batts will.
Only Experts Should Install Spray Foam Insulation
Remember how we just mentioned that installation is as important as the insulation? Well we are the experts when it comes to spray foam. We know the type of insulation to use in the different areas of your St. Louis home.
An inexperienced insulation contractor will use too much high-expanding foam around a door jamb or window which will bow the frame. A poorly trained insulation installer will have more overspray wasting material which costs you money and making a mess which extends the project length to clean it up. We have the right training and experience which protects your home and saves you money.
Along with understanding installation we also understand the chemistry behind spray foam. Spray foam reacts differently at different temperatures. We keep the spray foam cans and two-part at a specific temperature for optimal performance.
Also look at our comparison between spray foam and rigid foam insulation. We also provide assistance in choosing the best spray foam insulation.
Call 1-877-622-2308 or contact us online to schedule a Free Estimate for spray foam insulation in Florissant, St. Louis, Ballwin, East St. Louis, Chesterfield, Belleville, Granite City, Arnold, Edwardsville, Fenton, Alton, O Fallon, Collinsville, Eureka, Mount Vernon, Centralia, Imperial, Troy, Maryland Heights and nearby Missouri and Illinois.
Start Saving Energy and Money With A Spray Foam Insulation Upgrade.
At Dr. Energy Saver St. Louis, we don't just install insulation anywhere, we find the most beneficial areas to insulate your home. Once we've diagnosed the major contributors to your home's energy issues, we can layout a spray foam solution and give you a cost estimate on the service.
Looking for a price? Get a no cost, no obligation free estimate.