Spray Foam Insulation Services in St. Louis, Florissant, Ballwin & Nearby
We can upgrade your home's comfort and efficiency with our high-quality spray foam insulation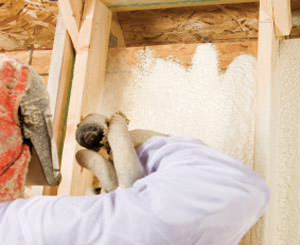 Spray foam insulation provides air sealing and insulation in one step.
When you want to save money on energy costs and improve your home's comfort, it's essential that you use the right materials. Spray foam insulation provides a complete air sealing and insulation solution that is proven to reduce energy loss, improve home comfort, and save you money on heating and cooling costs.
At Dr. Energy Saver St. Louis, we specialize in spray foam insulation for all types of insulation needs, and we can help you get the right solution for your home. Call us today at 1-844-385-7503 or click below to get a free estimate on spray foam insulation in St. Louis, Florissant, Ballwin and the surrounding areas in MO & IL.
Why choose us for spray foam insulation?
30 years of insulation installation expertise
Long-standing A+ rating by the BBB
Variety of easy-to-use financing options
FREE written estimates for ALL services!
Choosing the right spray foam for your home's needs
There are two major types of spray foam, each of which has different benefits for your home's energy efficiency.
Open cell foam: Open cell spray foam, which is also known as 1-part foam, is a common material that can be bought at hardware stores. This type of foam comes in small canisters and expands as it is applied to the surface to provide an airtight seal. Open cell foam is used for air sealing projects, which are typically followed by larger insulation installation methods.
Closed cell foam: Closed cell foam, or two-part foam, is the material that professionals use for large spray foam jobs. This foam consists of two chemical compounds that blend together at the application nozzle before they expand and harden on the treated surface. Closed cell foam offers excellent R-value and has the added benefit of providing air sealing and insulation in one step.
Advantages of choosing spray foam for your home
Provides air sealing as part of installation, eliminating leaks and drafts and raising the performance of the insulation.
Poly spray foam has a higher R-value per inch (6.2 or higher) than any other commonly used insulation.
Unlike other insulation, spray foam is waterproof and won't lose its insulating value in the event of a roof leak or other problem.
Spray foam is pest & mold-proof, so you don't have to worry about the insulation getting damaged over time.
Start saving energy and money with a spray foam insulation upgrade
If you want to improve your home's comfort and energy efficiency, spray foam insulation from Dr. Energy Saver St. Louis is the ideal solution. We provide expert spray foam insulation for attics, walls, basements and more. Call us today at 1-844-385-7503 or contact us online to get started with a free estimate in St. Louis, Florissant, Ballwin, Belleville, Chesterfield, East St. Louis, Fenton, Granite City, Arnold, Edwardsville and throughout the surrounding areas.
Looking for a price? Get a no cost, no obligation free estimate.