Low-E Glass Replacement Windows in St. Louis, Ballwin, Florissant & Nearby
Improve energy efficiency and comfort with upgraded replacement window glass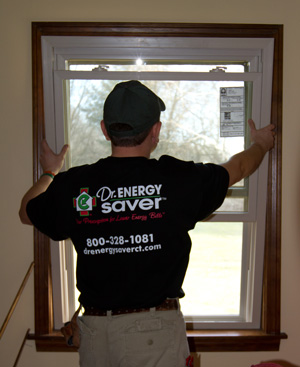 Low-E glass provides the best energy efficiency available in replacement windows.
Your windows have a major impact on your home's energy efficiency and comfort, which is why having the right replacement windows installed is essential. Low-E glass replacement windows offer insulated panes that provide excellent energy efficiency by preventing heat transfer.
At Dr. Energy Saver St. Louis, we specialize in replacement window installation and home energy upgrades. If you're interested in improving your home's comfort and efficiency, call us today at 1-844-385-7503 or click below to get started. We offer free estimates on all our work in St. Louis, Florissant, Ballwin, and the nearby areas.
The energy efficiency benefits of Low-E glass
Improved energy efficiency: This is a big deal, since windows can be responsible for 25% of a home's wintertime heat loss. In addition to reducing heat loss during winter months, low-e glass also reduces heat gain during the cooling season.
Less UV damage: By blocking most ultraviolet (UV) radiation, Low-E glass helps protect fabrics, leather, carpeting, artwork and finishes from the fading effects of sunlight.
Reduced condensation: Condensation on window glass can be a problem during the heating season, as warm air comes into contact with cold window glass and gives up its moisture, forming water droplets on the glass surface. Low-e glass will minimize or eliminate this unwanted condensation.
Rebates on windows & doors: If you install new or replacement windows and/or doors that are ENERGY STAR® qualified (which include low-e glass), you may be eligible for a tax credit. Dr. Energy Saver St. Louis can provide you with the most up-to-date information on tax credits for energy-saving home improvements.
How Low-E glass works
The "E" in Low-E stands for emissivity – the ability to emit radiant energy. A dark asphalt driveway has a high e-factor; it will absorb and emit a great deal of heat. A low-e coating emits almost no radiant energy. The coating is actually an invisible metal or metallic oxide film that's deposited on the surface of the glass during or after the manufacturing process. This microscopic layer allows light (short-wave energy) to penetrate the glass, but blocks most ultraviolet (UV) long-wave energy, which we feel as heat. Here's how low-e windows improve energy efficiency during summer and winter months:
Winter mode: Light is admitted through the glass, but heat from interior spaces is reflected back into the house interior by the Low-E coating.
Summer mode: Light is admitted through the glass, but heat from outside is reflected, helping to reduce cooling costs.
Start saving energy and money with a Low-E glass window upgrade
If you're interested in upgrading your home's windows with Low-E glass, the replacement window experts at Dr. Energy Saver St. Louis are here to help. Call us today at 1-844-385-7503 or contact us online to learn more about the best replacement window and energy efficient glass options for your needs. We offer free estimates on all our work in St. Louis, Florissant, Ballwin, Belleville, Chesterfield, East St. Louis, Fenton, Granite City, Arnold, Edwardsville and throughout the surrounding areas.
Looking for a price? Get a no cost, no obligation free estimate.