Basement Insulation Contractor Serving St. Louis, Florissant, Ballwin & Nearby
Upgrading basement insulation improves comfort and efficiency throughout the home
Watch this video about sealing & insulating a stone foundation wall with spray foam to enhance the basement environment.
Basement insulation may not seem essential in an unfinished basement, but it can actually have a major impact on your home's overall energy efficiency and comfort. When installed correctly, basement insulation can create a dry, comfortable living space that eliminates mold and humidity problems while reducing heating and cooling costs.
At Dr. Energy Saver St. Louis, we use rigid foam insulation and spray foam insulation to create properly air sealed and insulated attics, ensuring improved energy performance and home comfort. If you're interested in basement insulation for your home, call us today at 1-844-385-7503 or click below to get started. We offer free estimates in St. Louis, Florissant, Ballwin and the nearby areas.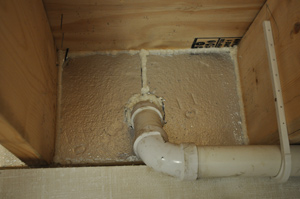 Rim joist insulation & sealing. We make sure to seal & insulate the outer edge of the house framing to help stop air leaks, pests, and major heat loss.
Benefits of an insulated basement
Improved comfort in the basement and in upstairs space too
No more mold & mildew problems in the basement
Stop unwanted air infiltration that brings in cold winter air
Lower heating & cooling costs
Basement becomes usable as additional living space
Three ways to make your basement better with insulation
Seal & insulate the rim joist: The edge of the house where the floor framing rests on the foundation is a major source of air leakage and energy loss. It's especially severe where plumbing, wiring and dryer vents penetrate to the exterior. We eliminate this problem by sealing & insulating the rim joist.
Insulate foundation walls: Rigid foam insulation is best for your basement's concrete walls. Unlike fiberglass batts, rigid foam wall insulation won't absorb water or be damaged by it. Rigid foam also won't compress, fall out of place or lose R-value. We recommend Basement to Beautiful® wall insulation. These innovative panels are sized for typical basement walls and each panel comes with built-in wiring channels and integral steel flanges for attaching wallboard.
Insulate the basement floor: Do you want a warm finished floor in your basement? Keep your feet - and basement - warm and lower the cost of your energy bills by insulating your basement floor before installing a floor covering.
Start your basement transformation with the best insulation
If you want to make more and better use of your basement space, insulation upgrades should be a top priority. Dr. Energy Saver St. Louis has the best basement insulation products and the expertise to provide you with long lasting home energy and comfort upgrades. Call us at 1-844-385-7503 or fill out our online form to request a free estimate on basement insulation installation in St. Louis, Florissant, Ballwin, Belleville, Chesterfield, East St. Louis, Fenton, Granite City, Arnold, Edwardsville and the surrounding areas.
Looking for a price? Get a no cost, no obligation free estimate.