Ductwork Services For Residents of Greater St. Louis
Improve the indoor air quality of your home with our duct sealing and insulation services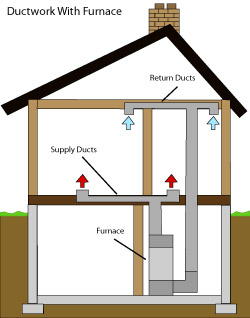 Do your heat registers seem to produce less heat than in the past? Are they clogged with dust and debris that blows into your home? Have family members with asthma or allergies experienced increased discomfort in recent months? Can you feel air leaks when you run your hand along joints in your ductwork? These are just some of the problems Dr. Energy Saver St. Louis can fix.
We'll inspect your ductwork as part of our free ductwork estimate. We service St. Louis, Ballwin, Florissant, Fenton, East St. Louis, Belleville, Chesterfield, Granite City, Edwardsville, Arnold, as well as nearby towns in Missouri and Illinois.
What can Go Wrong with Ductwork?
Recent Testimonials
"Dr. Energy Saver was professional and most importantly showed up when they said they would."

Kevin D. of Mascoutah, IL

"I'm saving money on heating and cooling because of Dr. Energy Saver."

Pat Q. of Collinsville, IL
Ducts are important parts of a forced-air heating or cooling system. They circulate conditioned air, with the help of a large blower, from your furnace and/or air conditioner to the rooms of your home and then back again. Furnace filters, air cleaners, and humidifiers are often located in the ductwork.
As simple as ducts are, there are lots of things that can go wrong with them. Ill-fitting ducts, loose joints, and splits or tears can leak large amounts of conditioned air into places where it doesn't help warm or cool you -- like basements, attics and wall cavities. Crimped or separated vents can restrict or divert air flow all together. Un-insulated and unsealed joints also waste valuable heat and reduce the effectiveness of a central air conditioning system. Accessories like dehumidifiers, filter cabinets, and air cleaners (all of which are often installed in ducts) are other typical areas that leak conditioned air.
Leaky basement ducts cause problems in other ways, too. As air leaks into a basement, it creates a positive pressure. If this happens while the first floor has a negative or neutral pressure, the ensuing imbalance can draw air from the basement into the above rooms. This poor quality air, often filled with dust or mold spores, can aggravate symptoms for occupants who suffer from respiratory illnesses like asthma and allergies.
A Quick, Fast Way to Reduce Energy Bills
Imagine that money, not air, is flowing through your ducts (the money you've spent to heat or cool air). In ducts that are not sealed or insulated, or in need of repair, nearly half the dollar bills slip out the cracks whenever you turn on the furnace or air conditioner. By repairing your ductwork, those dollars never leave your wallet. The payback for ductwork improvements is usually only a few years. After that, you'll save money for as long as you own your home. You'll also prevent tons of extra carbon from being released into the air, the primary cause of global warming.
We Repair, Seal & Insulate Your Ductwork
There are several ways Dr. Energy Saver St. Louis can make your ducts more energy efficient. One is to seal duct joints with a special heat-resistant mastic that won't crack or peel. Every joint and hole is covered. Then, if ductwork insulation is necessary, we can add it in several ways – including the use of insulated panels or sprayed-on polyurethane foam insulation. Spray foam insulation seals against air leakage and provides an effective thermal barrier.
Contact Dr. Energy Saver St. Louis today for more information or to schedule a Free Estimate for duct sealing, repair, or insulation in St. Louis, Florissant, Ballwin, Belleville, Chesterfield, East St. Louis, Fenton, Granite City, Arnold, Edwardsville, Alton, O Fallon, Collinsville, Eureka, Mount Vernon, Centralia, Imperial, Troy, Maryland Heights and surrounding Missouri and Illinois areas.
Looking for a price? Get a no cost, no obligation free estimate.