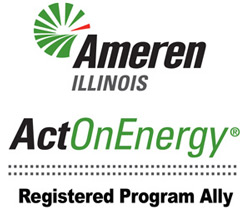 Does it seem like we have been hearing the name ActOnEnergy a lot lately? Unless you have been asleep, tuned out, or not living in the St. Louis area, you have probably heard advertising on the radio, on the television, and on the web. It's been hard to miss.
ActOnEnergy is a large program with lots of different pieces and parts. The program is administered separately in Missouri and Illinois. We think the best part of this vast program is the Home Energy Performance portion of the AMEREN Illinois ActOnEnergy Program.
If you are an Illinois homeowner and a customer of AMEREN Illinois who is interested in making your home more comfortable, healthier, safer, more energy efficient, and less costly to own, you owe it to yourself to get to know more about ActOnEnergy.
About AMEREN Illinois Incentives
AMEREN Illinois ActOnEnergy provides financial incentives to homeowners of up to $5,200 to help pay for energy-saving home improvements. This includes up to $1,200 for air sealing, up to $1,600 for attic insulation, up to $1,200 for wall insulation, up to $800 for crawl space insulation, and up to $400 for rim joist sealing and insulation.
ActOnEnergy is affiliated with the Illinois Home Performance with ENERGY STAR® program. This means that, in addition to financial incentives, you may also be able to earn a Silver or Gold certificate issued by the Illinois Department of Commerce and Economic Opportunity. This certificate will be helpful when it comes time to sell your home.
How to Get Started
In order to get started, contact a Registered Program Ally listed here at the ActOnEnergy web site. A representative of that Ally will come to your home to inspect and assess your needs. The representative will also perform the required diagnostic testing and fill out all the paperwork needed for you to take advantage of the financial incentives. It couldn't be easier.
One of the best features of the program is the financial incentives are just that, incentives. They are not tax credits or tax deductions that make you wait until tax time to collect. They are not rebates you must wait to receive. The incentive is immediately deducted from your bill by the Registered Program Ally who performs the energy upgrade work.
If you have been waiting for the perfect time to lower your gas and electric bills, the time is now. The word is getting out, hundreds of homeowners on the Illinois side of the St. Louis area have already taken advantage of ActOnEnergy to reduce their gas and electric bills.