Comprehensive Residential Home Energy Audit In Florissant, St. Louis, Ballwin, & Greater St. Louis
How Does Your Home Consume Energy? - Home Energy Evaluation & Checkup in MO & IL
Contact Us For
A Home Energy Audit*
Current Offer: Pay just $49 for a complete home energy checkup.
Privacy Statement: Your privacy is valued! Your personal information will be kept confidential and will not be redistributed or shared with any third parties.
Let's be honest: Thanks to our yearly tax ordeal, the word "audit" has the power to make us pretty nervous. But unlike a tax audit that can be aggravating and costly, a home energy audit is a smart investment that keeps paying off for as long as you own your house.
Benefits of our home energy audit:
Room-to-room examination
Measures home energy consumption
Pinpoints energy losses
Evaluation of your appliances and systems
Prioritized list of the most cost-effective solutions
Don't let your home become an uncomfortable everyday environment. Contact our company today to schedule a professional home energy audit in your Missouri and Illinois home. Our home energy audit will thoroughly evaluate and assess your entire residence to find out how your home uses and loses energy.
Energy Assessments for Your Entire Home
Within the eight energy-consumption categories for a typical house, there are a variety of factors that affect energy use. For example, water heating expenses are dependent on the efficiency of the water heater, the types of shower-heads in use, pipe insulation, dishwasher and washing machine efficiency and overall hot water demand. Heating and cooling costs are also dependent on many factors: insulation levels, air leakage, duct leakage, and HVAC system efficiency, just to name a few.
Through several thorough tests, inspections and calculations, a complete home energy audit evaluates all of the features and conditions that contribute to your home's overall energy performance. When Dr. Energy Saver St. Louis completes your Home Energy Checkup, you'll see exactly how your energy dollars are being spent and where your best savings opportunities can be found. Our energy audit rates 10 Energy Vital Signs™ and provides you with a prioritized list of recommended improvements --your master plan for saving energy.
At Dr. Energy Saver St. Louis, we are the trusted Home Energy Contractor serving both sides of the river including St. Louis, Ballwin, Florissant, Chesterfield, Belleville, Fenton, East St. Louis, Arnold, Edwardsville, Granite City, Alton, O Fallon, Collinsville, Eureka, Mount Vernon, Centralia, Imperial, Troy, Maryland Heights and all their surrounding areas.
Not all home energy audits are the same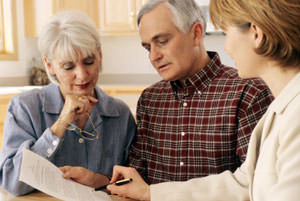 A Home Energy Checkup from Dr. Energy Saver St. Louis provides you with a master plan to improve your home's energy performance, cut your monthly energy bills, and turn your home into a healthier, more comfortable space.
A Dr. Energy Saver St. Louis Home Energy Checkup isn't the cheapest energy audit on the market, but it's definitely the best and most thorough. Many of the energy audits subsidized by local utilities or state programs are remarkably incomplete and can miss several energy deficient spots in your home. Don't take chances with a cheaper energy audit, as an investment in a Dr. Energy Saver St. Louis home energy audit will quickly begin paying for itself.
When you get one of these limited energy audits, you're missing out on major information. You may have major air leaks that are hard to find, a furnace that isn't venting properly, or a ductwork system that's dumping air from your attic or basement into your living space.
To make sure you do the right things in the right order, invest in Dr. Energy Saver's comprehensive and customized Home Energy Checkup. If you're interested in renewable energy options like a geothermal heat pump or a solar system, our energy audit will also evaluate your home's potential for these improvements.
Looking for a price? Get a no cost, no obligation free estimate.